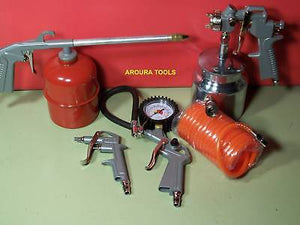 AIR TOOLS 5 PCE KIT- NEW IN BOX.
5PC AIR TOOLS KIT-BRAND NEW.
A COMBINATION OF THE MOST POPULAR AIR TOOLS.
A GREAT VALUE STARTER KIT FOR THE HOME HANDYMAN.
CONTENTS:
1 X ENGINE DEGREASER CLEANING SPRAY GUN.
1 X HIGH PRESSURE PAINT SPRAY GUN.
1 X TYRE INFLATOR WITH PRESSURE GAUGE.
1 X 5M AIR HOSE WITH FITTINGS.
1 X AIR DUSTER BLOWER GUN.
KIT WEIGHT : 2Kg.