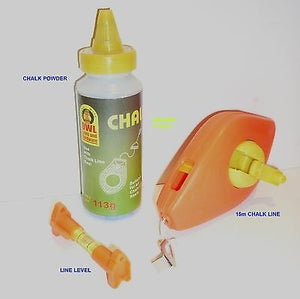 CHALK LINE KIT, 3pc SET, CHALK LINE, CHALK POWDER & LINE LEVEL - BRAND NEW.
3 PC CHALK LINE KIT.- BRAND NEW.
1 X 15 M WIND UP STRING LINE WITH CHALK FILLER .
1 X CHALK POWDER BOTTLE 113g.
1 X STRING LINE LEVEL. 
WEIGHT OF SET : 0.4 KG.