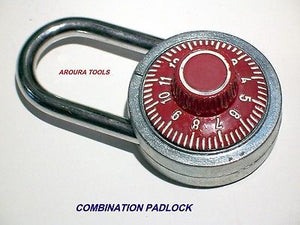 COMBINATION PADLOCK 3 DIGIT CODE - NEW
COMBINATION PADLOCK.- BRAND NEW
A HANDY PADLOCK FOR SCHOOL & SPORTS LOCKERS ETC.
ALL METAL CONSTRUCTION.
LOCK BODY DIMENSIONS: 45mm DIAMETER OF DIAL BODY.
THICKNESS OF SHACKLE : 5mm.
DIAMETER OF SHACKLE LOOP : 30mm. ( BETWEEN CENTRES OF SHACKLE ).
DISTANCE BETWEEN TOP OF SHACKLE TO BASE IS 80mm. ( LOCK CLOSED).
3 DIGIT COMBINATION NUMBER.
EACH PADLOCK HAS ITS OWN INDIVIDUAL NUMBER.
OPERATING INSTRUCTIONS INCLUDED.
AVAILABLE IN 3 COLOURS ( RED, BLACK & BLUE ).
WEIGHT OF PADLOCK : 200 g.