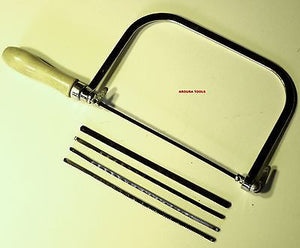 COPING SAW WITH 5 BLADES - BRAND NEW.
COPING SAW WITH 5 BLADES-BRAND NEW.
FOR CUTTING WOOD , PLASTICS, OR SOFT METALS.
A coping saw can be used to cut shapes in the middle of a piece of material. First, the blade is removed from the coping saw and then passed through a hole that has been drilled. The blade is then fitted to the coping saw frame. The saw can then be used in the normal way, cutting the 'internal' shape.
6 INCH BLADES.
5 X ASSORTED BLADES INCLUDED ( MEDIUM, FINE, & EXTRA FINE ).
WEIGHT OF PACKED SET : 0.4 Kg.