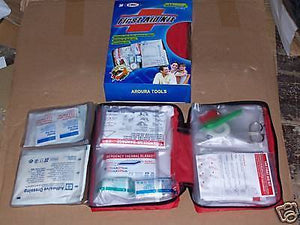 FIRST AID KIT- 45 PC- NEW IN BOX.
45 pc FIRST AID KIT - BRAND NEW
HANDY PORTABLE KIT FOR AUTO, HOME OR OFFICE .
FIRST AID INSTRUCTION BOOK.
4 X 6 cm NON- ADHERENT PAD.
8 X 10 cm NON- ADHERENT PAD.
5 X 6 cm NON - ADHERENT PAD FOR EYES.
19X72 cm NON-ADHERENT BAND AID.
5pce SET OF GAUZE SPONGES 3 X 3".
WOUND PAD 10 X 10 cm NON-ADHERENT .
HEAD & FINGERS NET BANDAGE.
ADHESIVE TAPE 12.5 mm X 10 M.
5 cm X 4M GAUZE BANDAGES.
5 cm X 4M ELASTIC BANDAGE.
SAFETY PIN 5 cm.
WHISTLE.
EMERGENCY THERMAL BLANKET 130 X 210 cm.
TRIANGULAR BANDAGE.
LATEX GLOVES.
PDI ALCOHOL PREP PAD.
PDI POVIDONE-IODINE PREP PAD.
SCISSORS.
PLASTIC TWEEZERS.
INCLUDES PLASTIC STORAGE CASE. ( 21 X 14 X 7.5 cm.).
NOTE: THE ZIP UP CARRY POUCH SHOWN IN THE PHOTO IS NO LONGER AVAILABLE, INSTEAD A PLASTIC STORAGE BOX IS SUPPLIED.
Weight of parcel : 1 kg.