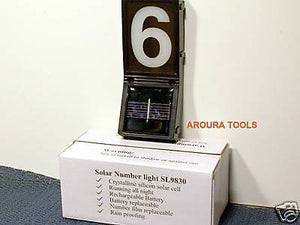 HOUSE NUMBERS ILLUMINATED-SOLAR POWER RECHARGEABLE- NEW
ILLUMINATED HOUSE NUMBER -SOLAR POWERED.- BRAND NEW
VERY VISIBLE AT NIGHT ( TAXI DRIVERS LOVE IT ).
INTERNAL BATTERY CHARGES DURING THE DAY.
ORANGE COLOUR LED BACK-LIT NUMBER DISPLAY.
DIMENSIONS: (7w X 17h X 2d )cm
POWERED BY AN INTERNAL RECHARGEABLE BATTERY (AA- NiCd. 1.2V 600mAH )( BATTERY IS REPLACEABLE ).
SOLAR POWER RECHARGES BATTERY DURING THE DAY.
WILL OPERATE ALL NIGHT.
OVERLAY PLASTIC FILM NUMBERS 0 TO 9 INCLUDED.
WATER PROOF DESIGN.
MOUNTING SCREWS & HARD-WALL PLUGS SUPPLIED.
EASY TO INSTALL.
WEIGHT OF PACKAGE : 220g.