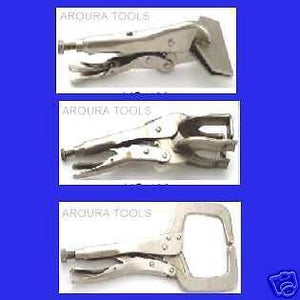 LOCKING GRIP PLIERS 3 PCE KIT - NEW IN BOX.
3 pce. LOCKING GRIP PLIERS SET- BRAND NEW
THESE LOCKING GRIPS ARE VERY HANDY THEY ARE LIKE AN EXTRA PAIR OF HANDS.
THEY ARE DESIGNED TO PROVIDE A LOT OF PRESSURE BETWEEN THE JAWS & LOCKABLE.
IDEAL WHEN YOU ARE WORKING ON SHEET METAL OR WELDING STEEL TOGETHER.
1 X 10" SHEET METAL LOCKING GRIP.
1 X 10" WELDING LOCKING GRIP.
1 X 10" C- SHAPE LOCKING GRIP.
WEIGHT OF KIT : 2.0KG.