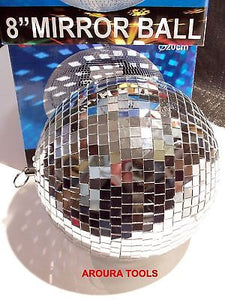 MIRROR BALL 20cm - NEW.
MIRROR BALL - 20cm DIAMETER.- BRAND NEW
GREAT FOR PARTIES.
COMES WITH HANGING ATTACHMENT.
SIMPLE TO INSTAL & VERY EFFECTIVE.
WE ALSO RECOMMEND OUR, L.E.D. LASER STROBE AS A LIGHT SOURCE FOR THE MIRROR BALL. ( AVAILABLE IN OUR STORE. )
PACKAGE WEIGHT ~ 0.9 Kg.