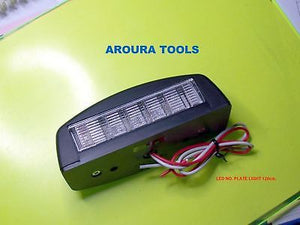 NUMBER PLATE LIGHT L.E.D. 12V - BRAND NEW.
L.E.D. NUMBER PLATE LIGHT - BRAND NEW
LED LIGHTS ARE BRIGHTER, EFFICIENT, LESS HASSLES, NO MORE GLOBES TO CHANGE.
LED BULBS LAST 1000'S OF HOURS.
EASY TO INSTALL - 2 MOUNTING SCREW HOLES.
DESIGNED WITH 12 HIGH QUALITY LED'S.
ENERGY EFFICIENT LOW POWER CONSUMPTION ( 300 mA @ 12V ).
OPERATING VOLTAGE 12VOLT.
VIBRATION & SHOCK PROOF.
WATER RESISTANT ALL RESIN SEALED.
25 cm LONG WIRING LOOM AT THE CENTRE REAR OF LAMP.
COLOUR CODED TIN COATED COPPER WIRES - CORROSION RESISTANT.
DIMENSIONS OF LAMP: ( 4D X 4.6W X 12H ) cm
ADR APPROVED.
5 YEAR WARRANTY.