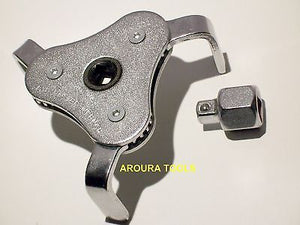 OIL FILTER WRENCH- 2 WAY - 3 ARM - NEW
OIL FILTER WRENCH - BRAND NEW
GREAT FOR REMOVING & REPLACING OIL FILTERS WHERE SPACE IS LIMITED.
HEAT TREATED METAL CONSTRUCTION.
CHROME PLATED FINISH.
SUITABLE FOR ALL OIL FILTERS FROM 2.5" TO 4". IN DIAMETER.
USE WITH A 3/8" RATCHET OR 1/2" RATCHET.
3/8 TO 1/2 INCH RATCHET ADAPTER INCLUDED.
GEAR MECHANISM ALLOWS LEGS TO GRIP & TURN FILTER BODY.
WORKS BOTH WAYS TIGHTENING & LOOSENING.
WEIGHT OF PARCEL : 600 g.