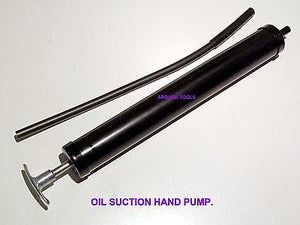 OIL & GREASE SLUDGE HAND SUCTION PUMP - NEW.
OIL & GREASE HAND SUCTION PUMP - BRAND NEW.
HANDY OIL PUMP FOR FILLING OR TOP UP GEARBOXES OR DIFFS.
FOR USE WITH THICK OILS OR GREASE.
ALL METAL CONSTRUCTION.
DIMENSIONS OF PUMP BODY: 25 cm LONG, 3.2 cm DIAM, VOLUME : 200 cc.
28 cm FLEXIBLE FILL HOSE INCLUDED.
Weight of parcel: 500 g.