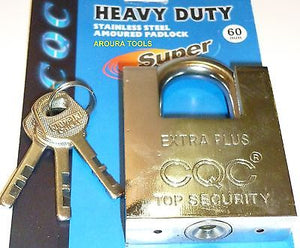 PADLOCK TOP SECURITY 60mm WITH 3 KEYS - NEW.
TOP SECURITY PADLOCK - 60mm WITH 3 KEYS. - BRAND NEW
HIGH SIDE WALL DESIGN PREVENTS CUTTING OF SHACKLE.
HARDENED STEEL LOCK SHAFT & BODY.
HARDENED STEEL SHACKLE.
STAINLESS STEEL BALL.
NOVEL MULTI - LAYER KEY DESIGN.
DESIGNED FOR TOP SECURITY.
LOCK BODY DIMENSIONS: 60 X 70 X 20 mm.
10mm THICKNESS OF SHACKLE.
DIAMETER OF SHACKLE LOOP : 35mm. ( BETWEEN CENTRES OF SHACKLE ).
DISTANCE BETWEEN TOP OF SHACKLE TO BASE IS 82mm. ( LOCK CLOSED).
3 X MULTI-LAYER KEYS SUPPLIED WITH EACH LOCK.
WEIGHT OF ONE PADLOCK : 600g.