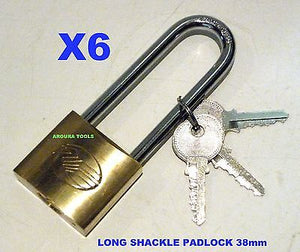 PADLOCKS- A BOX OF 6- LONG SHACKLE, BRASS CASEING, 38mm SIZE WITH 3 KEYS - NEW.
6 X LONG SHACKLE PADLOCKS - 38mm SIZE.-BRAND NEW
SOLID & SECURE BRASS CASING PADLOCKS.
SOLD IN A BOX OF 6 PEICES.
HARDENED STEEL SHANK FOR SECURITY.
HARDENED STEEL BALL, PIN, & SHACKLE PREVENTS LOCK BEING PRIZED OPEN.
6.5mm SHACKLE DIAMETER.
DISTANCE BETWEEN TOP OF SHACKLE TO CASE IS 74mm. ( LOCK CLOSED).
SIZE OF PADLOCK CASING IS ( 38 W X 35 H X 16 D ) mm.
3 KEYS SUPPLIED WITH EACH LOCK.
WEIGHT OF BOX WITH 6 PADLOCKS : 1.2Kg.