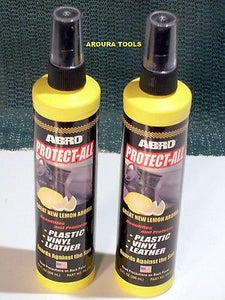 PROTECT-ALL SPRAY ( 2 X BOTTLES ) FOR VINYL, PLASTIC, LEATHER CLEANS & PROTECTS.
2 X BOTTLES OF PROTECT-ALL TRIGGER SPRAY - BRAND NEW.
NEW LEMON AROMA.
BEAUTIFIES & PROTECTS, PLASTICS, VINYL, LEATHER.
GIVES A SHOWROOM NEW FINISH.
GAURDS AGAINST THE SUNS DAMAGING UV RAYS.
MADE IN THE USA.
2 X 296 ml BOTTLES WITH TRIGGER SPRAY.
Weight of package : 0.8 kg.