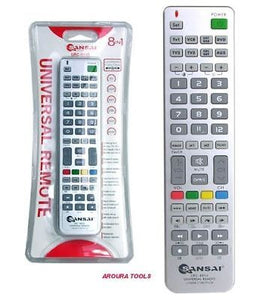 REMOTE CONTROL UNIVERSAL 8 IN1 INFRA RED - BRAND NEW
UNIVERSAL INFRA RED REMOTE CONTROL.- BRAND NEW.
CONTROLS UP TO 8 DEVICES ( TV, VCR, DVD PLAYERS, CABLE & SATELLITE RECEIVERS , AMPLIFIERS ETC ).
LEARNING FUNCTION FOR PROGRAMMING FROM OTHER REMOTES.
TELETEXT & FASTEXT & MENU CONTROL.
ALL ORIGINAL REMOTES ESSENTIAL KEYS.
SIMPLE TO USE & PROGRAM.
MACRO - ALLOWS YOU TO CREATE YOUR OWN SHORTCUTS.
SIMPLE SET UP WITH CODE SEARCH.
PERMANENT MEMORY RETENTION.
POWER FROM 2 X AA BATTERIES.
UNIT SIZE : 22 X 5.5 X 2.5 cm.
WEIGHT OF PARCEL : 150g.