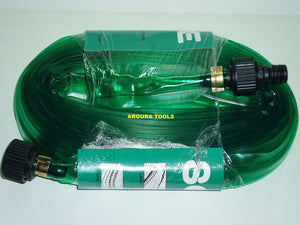 SOAKER HOSE WITH SNAP-ON FITTINGS 7.5m LONG- NEW
GARDEN SOAKER HOSE WITH FITTINGS - 7.5m LONG. -BRAND NEW.
IDEAL IRRIGATION HOSE FOR LAWNS, FERNERIES, LONG NARROW DRIVEWAYS OR GARDEN BEDS.
CAN BE USED AT LOW WATER PRESSURE TO SOAK AROUND PLANTS.
EASILY CONNECTS TO YOUR GARDEN HOSE SNAP ON FITTING.
SOAKER HOSES ARE EXTENDABLE & CONNECTABLE. 
HAS NON - ROLL FINS FOR STABILITY.
SNAP ON FITTING TO SUIT A 12mm GARDEN HOSE WITH CLICK ON FITTINGS. 
2 SOAKERS ARE CONNECTABLE TO INCREASE LENGTHS.
Weight of HOSE : 500g.