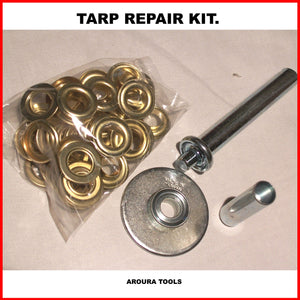 TARP REPAIR KIT, EYELET FITTING TOOL & 50 PAIRS OF BRASS PLATED EYELETS - NEW
TARP REPAIR KIT - WITH BRASS EYELETS & INSTALLATION TOOL - BRAND NEW
An IDEAL SET FOR REPAIRING TARPS, TENTS, AWNINGS, POOL COVERS, CANOPIES, SCREEN HOUSES, PATIO FURNITURE & OTHER ITEMS WHICH USE Grommets.
A QUICK & EASY DO IT YOURSELF SOLUTION.
50 PAIRS OF 1/2" RUST PROOF BRASS PLATED WASHERS & GROMMETS ( 50 WASHERS & 50 GROMMETS ).
3 PC DROP FORGED CHROME PLATED STEEL EYELET PUNCH INSTALLATION TOOL.
INCLUDES CUTTING TOOL, INSERT PUNCH, & HOLDING BASE.
EYELET DIAMETER HOLE SIZE: 12 mm .
WEIGHT OF KIT : 400 g.
NOTE : Extra eyelets available for purchase, see in store listing.