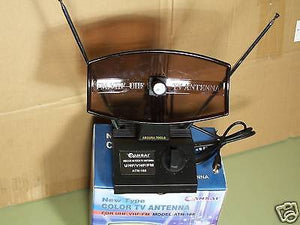 TV ANTENNA -INDOOR- RABBIT EARS & DISH - NEW IN BOX
INDOOR TV ANTENNA.- BRAND NEW.
HANDY TO HAVE FOR THE SPARE TV. OR THE FM HI-FI.
DESIGNED TO RECEIVE SIGNALS IN THE FM, UHF & VHF BANDS.
EASY TO CONNECT & OPERATE & PORTABLE.
STANDARD TV PLUG CONNECTION WITH 1m LEAD INCLUDED.
BASE MOUNT WITH 4 X SUCTION CAPS.
FREQUENCY RANGE: VHF 47 - 230MHz., UHF 470-863MHz, FM 88-108MHz.
2 X ADJUSTABLE RABBIT EARS & DISH ANTENNA .
ANTENNA SELECTOR SWITCH FOR BEST SIGNAL RECEPTION.
WEIGHT OF PACKAGE : 0.6 KG.
DIMENSIONS OF BOX: 13.5 X 20 X 18 cm.