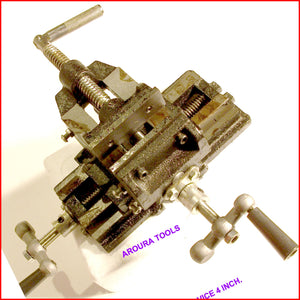 VICE CROSS SLIDE TYPE 100 mm WIDE JAWS - BRAND NEW
CROSS SLIDE VICE 100 mm. WIDE JAWS - BRAND NEW.
A HANDY WORKSHOP VICE FOR WOOD WORK OR METAL WORK .
CAST IRON CONSTRUCTION.
REPLACEABLE SMOOTH FACE STEEL JAWS.
CHROME PLATED COLD ROLLED STEEL VICE SCREW.
MAXIMUM JAW OPENING 100 mm.
VICE JAW WIDTH 100 mm.
2 SWIVEL CRANK HANDLES PROVIDES X & Y PLANE ADJUSTMENT.
7 BOLT DOWN MOUNTING SLOTS .
WEIGHT OF UNIT : 10.5 Kg.
DIMENSIONS OF CARRY BOX : 28 X 28 X 16 cm.