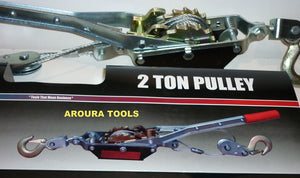 WINCH HAND PULLER- 2 TON - DOUBLE RATCHET GEARS, COME-ALONG PULLER - NEW.
2 - TON HAND PULLER WINCH - WITH DOUBLE RATCHET GEARS - BRAND NEW.
A MULTI -PURPOSE TOOL FOR PULLING OR STRETCHING, LIFTING OR LOWERING.
IDEAL FOR THE WORKSHOP, BOATING, CAMPING, LANDSCAPING, OR FARMING.
FREE STRANDED VEHICLES.
MOVE HEAVY EQUIPMENT.
TIGHTEN FENCING.
REMOVING TREE STUMPS.
ASSIST IN LOADING A BOAT ON A TRAILER.
DOUBLE GEAR , RATCHET ACTION.
3 X DROP FORGED SAFETY CATCH HOOKS WITH SAFETY CATCHES.
ALL STEEL CONSTRUCTION - MADE FROM HEAVY GAUGE FLAT STOCK STEEL.
CUSHION GRIP HANDLE.
HEAVY DUTY AIRCRAFT CABLE - 3meters LONG & 4.5mm DIAMETER.
HEAVY DUTY RATCHET & PAWL - MADE FROM 3 SEPARATE PLATES OF STEEL FOR STRENGTH & LONG LIFE.
4000 LB PULLING CAPACITY.
2000 LB LIFTING CAPACITY.
WEIGHT OF PACKAGE: 3.3 Kg.